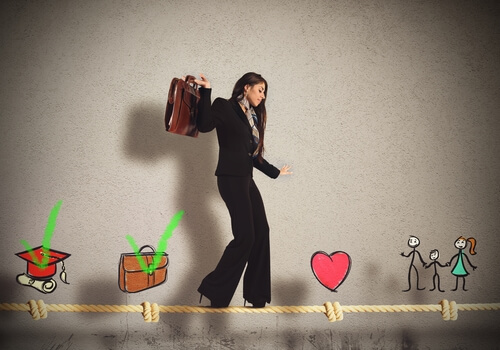 Being a working mother of 2 young children and CEO of PG Paper Company, one of the questions I get asked the most when I do an interviews is how I manage to achieve a work life balance.  With my business constantly expanding and the regular need for me to travel overseas to visit customers and suppliers, I understand why this question is relevant.
I started my business before my daughters were born and then tried to fit my work schedule around them is the best way I can describe juggling my life. My girls have always seen me working, making their meals, feeding them, driving, taking them to their activities etc. sometimes multi-tasking all at once.
My business was always part of my life and theirs too. My daughters since a young age have had to put up with my travels at the last minute, it was much harder to leave them when they were younger but with time they have been more understanding and accepting of the fact that mummy has to go away for a few days.
When my girls were very young, it was much easier to take them with me on my trips.  In the first 12 months of my oldest daughter's life, she had been on around 16 or 17 trips with me.  I remember how once an immigration officer cracked a joke that she had already visited more countries than the number of months she was at the time!
Until about 3 years ago, I ran my business from home – I would sit at the kitchen table discussing pricing and finalising deals surrounded by children.  This meant that I never had to miss any major milestones for my daughters.  I was there for their first words, the first time they walked, their first days of school and could schedule my work around their school shows, most of the time, and parent teacher meetings.  When the business expanded and we took on a few more staff members, we created an office space in our home so that I could still be there for my daughters and watch them grow up day by day.  They would come in and sit with the team, taking in sporadic nuggets of information from the paper world and hopefully now they pretty much understand various aspects of the business. They have always taken keen interest in my work and pride in what I do.
As the girls got older and the business expanded further, we found our home office space too cramped so finally we moved to a larger space just a 10 minute drive away from home to our nearby town Greenock.  I was away from them a bit more than they were used to, but we gradually eased into a new routine.  Now, I try to limit my travelling during school holidays as much as I can so I can spend more quality time with them when they are off or they will sometimes still come on trips with me.  We have visited so many fabulous places together and I love being able to combine my two favourite things – my family and my business.
My daughters are very sensible and understanding.  They know sometimes I will have to go away for a few days at short notice and understand why I need to do this.  I respect them a great deal and when they tell me that they want to be a businesswoman just like me when they're older, I know I've got the work-life balance right!